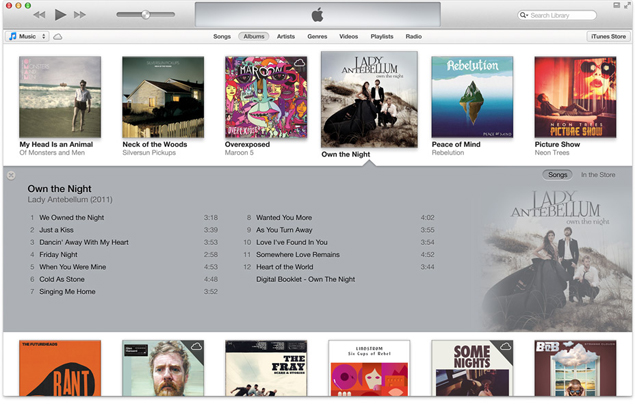 Apple has released a new version of iTunes music player that features a brand new interface. Other features include a new App Store interface, iCloud integration, and a preview history that lets you quickly go back to recently previewed content.
iTunes 11 gets rid of the sidebar-based navigation found in earlier iTunes versions and moves to a tab-like interface. You can switch between various types of content like Music, Films, TV Shows/ TV Programmes and Apps via a drop-down on the top left. Once within a category, users get various tabs to move quickly, for example, tabs to switch between Songs, Albums, Artists, Genres, Playlists, Radio and iTunes Match while in the Music category. The Songs view is the old 'List' view you're likely familiar with. The Album view presents all songs from an album in a new format that includes album art on the side.
Similarly, under Films the tabs include Unwatched, Films, Genres, Home Videos, Rented and a List view. The TV Shows/ TV Programmes category includes Unwatched, Programmes, Genres and a List view. Apps view let you see All apps as icons, iPhone/ iPod touch apps only, iPad, iPod Games (for iPod classic) and a List view.

iTunes 11 finally brings the new App Store interface that debuted on iOS a while back. Other new features include a redesigned MiniPlayer and an improved recommendations engine that suggests iTunes store music based on an album, artist, or genre you select. Frequent iTunes store users will appreciate other new features like preview history and the ability to play songs straight from the cloud. iCloud integration adds ability to resume playback of a podcast, audiobook or video where you left-off across various devices without having to sync them first. The ability to queue whichever song you want to play next adds a feature that has long been requested by many.
iTunes 11 is now available as a free download from Apple's website or via Apple Software Update on your Mac/ PC.