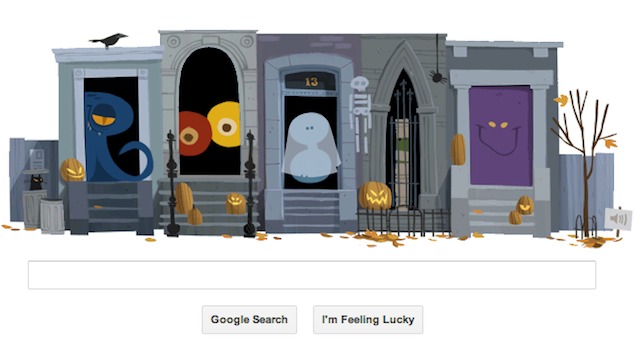 Happy Halloween! doodle is Google's Halloween surprise for visitors across the globe. Halloween is a yearly celebration observed worldwide on the last day of October, the eve of the Western Christian feast of All Hallows, hence the name all-hallows-eve, which got shortened to Halloween.
The doodle shows a street with a series of houses. Visitors can trick-or-treat by clicking on the door of each house. Clicking each door reveals a surprise, just like in real-life trick-or-treating. In this case, there's an octopus behind one of the doors, a spooky pair of eyes behind another, while yet another has a skeleton. Of course, no neighbourhood, real or virtual, would be complete on Halloween without pumpkins carved into jack-o'-lanterns.
But in a year when Abraham Lincoln was depicted as a vampire hunter and zombies are everywhere, gory costumes that were once reserved for preteens and teens are now available in ever-smaller sizes.
"For the last couple of years, darker is where it's been at," says Melissa Sprich, vice president of Halloween merchandising for Party City. For babies and toddlers, Sprich says "darker" may mean dressing as a devil this year, rather than a cheerful dinosaur. But for all other ages, many parents are seeking vampires, zombies and "the Freddies, Jasons and Chuckys" even for kids too young to see those characters on screen.
David J. Skal, who has chronicled America's fascination with horror since the 1990s in numerous books, including "The Monster Show," says he's surprised at the level of "monster-ization of children" we're seeing this year.
He points out that for centuries, frightening masks and "scary stories have been used to pass on a kind of coming-of-age message to children that the world is not always a safe and welcoming place." Perhaps, he says, this year parents are especially preoccupied with just how unwelcoming the world seems.
Of course, this year Halloween comes in the aftermath of hurricane Sandy, with celebrations ranging from non-existent in the severely effected parts of the US, to muted in others. Elsewhere in the world, some Catholic bishops in Poland say that Halloween is harmful because it promotes "diabolical" behaviour and are asking believers not to observe it.
Archbishop Andrzej Dziega in Szczecinsaid in letter to his parishioners that under the vestige of fun, Halloween can be "destroying the spiritual life." The "tricks" hide "diabolical attitudes" by encouraging readiness to harm the others. He asked believers not to observe Halloween.
With inputs from AP